Commercial Kitchen For Rent - St. Thomas

Large commercial kitchen available for rent on a part-time or occasional basis in St. Thomas. The kitchen is health department approved for food preparation to sell and serve to the public.
Suitable for meal prep, food production, catering, recipe/market testing, dry food packaging, entrepreneurs, food prep parties, etc. Not suitable for deep frying or certified gluten-free production.
$20/hr minimum 3 hour booking.
Available weeknights, and weekends only.
Full day rental rate for Saturday and/or Sunday negotiable for ongoing use.
I provide table space (4+2 stainless steel tables), sinks (dishwashing, food prep, handwash, and utility) and utilities. 2 gas stoves/ovens are available for use however all other small equipment must be supplied by tenant. Dry storage may be available for tenant with ongoing use. Some short-term fridge space available on weekends only.
Please
contact
for more info.
Powered by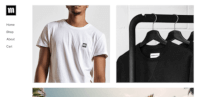 Create your own unique website with customizable templates.